Starbucks' Pumpkin Spice Latte was a huge bummer for me. After seeing all of the raving about it on others' blogs I finally tried it today. I don't taste pumpkin. All I taste is nasty in my mouth. lol. Not sure what's up with that, but I'm sad I didn't like it. I always enjoy Fall smells/tastes. Peppermint White Chocolate Mocha sounds delicious- I think I'll try that next time. Do you have a fall scent that you just can't get enough of? Mine is definitely Candles By Victoria's Simply Delicious candle. Mmm mmm MMM!!
This week has me going to a few appointments (eye doctor and haircut!) and on Friday I'm hitting the road after work to attend my sorority's Big/Little Night! This excites me because I haven't attended any
Chi
Omega
function since 2006 when I graduated college. Not even a Homecoming game! Sad, yes. To better describe what Big/Little night is: As a new member of a sorority you'll get a Big Sister. She's just a woman who has been in the sorority for a year or more, who will basically be there to help you out with school, etc. It's a wonderful thing and really allows you to have a better sense of "belonging" in the sorotity as a whole. Sounds cheesy, I'm sure to those who don't have a clue about sororities, but I assure you it's cool stuff. :-)
Anyway, I'm going up Friday with MY sorority little sister to see MY little sister to the 5th power (haha yeah I made that term up) get her little. It's a like a big chain of "family members." It's just nice to still be involved in the organization, which is essentially what a sorority is. It's the greatest organization I was ever involved in, for so many reasons- and the great thing is that I'll always be a member. I just don't have to pay dues anymore as an alumane. Muahah! I bought this dress to wear for the event. Had to represent with the
Straw
color. Chi Omega's other official color is
Cardinal
;-) So I'm thinking a red cardigan.....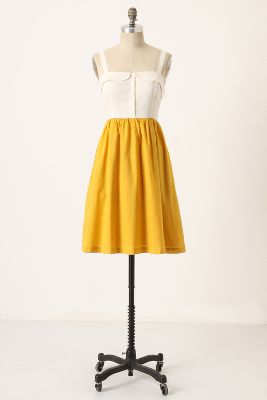 That's all the boring blab I'm doing for today. Happy Tuesday!