My goofy ass treadmill belt has gone caddywonkus on me- it's been slipping over to one side more than the other, so when I run, it sometimes "catches" and it feels like I might eat treadmill. I need to adjust the bolts in the back......
So, in the meantime I'm using this post to show you more clothes/beauty items that I
probably
don't need, but still love and would like to have:
Dior Capture Totale-
This moisturizer was sent to me in a tiny packet from Sephora. It's $125 dollars, but I absolutely LOVED this junk! It's in my Sephora basket for when I get some extra dolla dolla bills- my cart is loaded, so it needs to be soon. Although, that cream LaMer that all the celebs rave about is close to this price, too.....Which one do I get??
Anyone tried that LaMer stuff?
It better feel as good as this. I haven't dropped money at Sephora in awhile...That's my excuse.
Calvin Klein's Satin Dress via Nordstrom-
I love the color. Love the straps and neckline. It's just wishlisted because I can't decide how MUCH I like it. Ya got me?
Bebe Ruffle Halter top- I love this color and I love me some ruffles.
J. Crew's Crystal devoté necklace
- NEED this. It's on sale. Maybe I shouldn't tell you all that.....
Etsy The bachelor Wedding Necklace-
This was the necklace 'ole girl gave to her bridesmaids to wear on her wedding day to Bachelor Jason. I love it, but I'm not paying $80 bucks for it. Maybe. One day.
Phoebe Rosette & Tuxedo Trim Silk Taffeta Dress-

For $348 bucks this girl needs to stand up straight so I can see exactly how this dress lays. I mean, really girl?? Hunched shoulders will not make me want this dress more. Anyway- I love the two-tone blue, but wouldn't pay this price. So it's gonna sit in my wishlist forever. Or until a sale. And even then I'll have to really think hard about it.
Sultra The Siren Styling Dryer- Via Sephora-
I think it's high time I invest in a damn good hair dryer- especially seeing as how I have to hold my diffuser onto the main dryer with packing tape. BAHAH!! It's true. My hair is thick and slightly wavy, so a good hair dryer would really benefit me I think. Read more about it
here
. Can't forget the diffuser either!
Eek! My MAC and Sephora cart are overflowing. I have issues.
Actual Recent Purchase:
If you love yellow or bright colors in general get this necklace. It's SUCH a statement piece and gorgeous.
Anthropologie Solstice Necklace- $48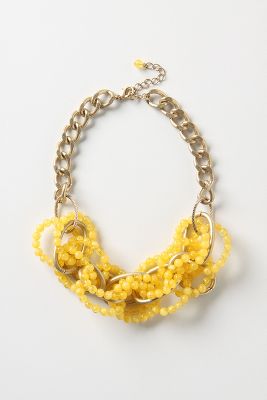 I'm currently trying to decide what to wear to the bride's rehearsal dinner next week...I'm not sure (even though I'm the MOH) what the dress attire is, but I'm sure it's dressy, but not cocktail-ish. Still I wanna look damn good and put-together, so I keep looking at all of J. Crew's Taffeta dresses and that Calvin Klein silk dress above--
too much?? Whattya think? Gimmie some ideas. Send me a link to what YOU would wear if you were going to a dressy/casual-ish rehearsal dinner TONIGHT!!