Christmas time is, like a lot of people's, my favorite time of year- for one, I LOVE colder weather. Not COLD weather, but cold-ER. I live in the South, so it's never really cold, and as much as I like being warmer, cold is a nice change and I can wear cute tights and crap :-). Another reason I love Christmas time is the overall feeling, no matter if it "feels like Christmas" or not, there's always that teeny tiny feeling you get that's different from any other day of the year- or maybe that tingle I get is telling me to go to the Dr.? Ha, nah.
Anyway, I'm doing my Christmas wish list. Just a few of the top things I would really like if Santa brought me this year. WHAT ARE YOURS??
1. Clarisonic Mia Facial Cleanser
- I don't know WHY I want this so badly. I never switch up my face routine, because I have something that works for me (tip: don't EVER fix something that isn't broken. Especially when it comes to your face wash. If you're using a face wash you've used for years and it never breaks you out and balances your skin- please for all that is sacred, don't try new products. It's really a waste. And believe you ME- I love buying and trying, but I always come right back to my old stuff.), but I have heard so many great things about this little guy! How well it gets the remaining make-up and dirt off your face being the number one rave. It's precious, too.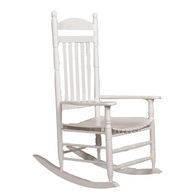 2. Rocking chairs (two) from Lowe's
- My front porch is screaming for these! They would look PERFECT sitting out there. My mom actually wants me to have these, and at first I was like,"Eh. I'd rather have something else for the house first." But, I really don't need anything else at the moment. I can picture myself sitting outside, rocking away in one of these babies with my sweet tea in one hand and my fan in the other. HA! yeah right. Still wish for these. Did my Mom take the initiative and buy them? We'll see.
3. Clark wall shelf and bench from JCPENNY
- *sigh* This is so cute- cuter than the chairs maybe? I have a blank wall in the kitchen area, and granted the kitchen isn't huge, but this would be PERFECT. For one, extra seating! For two, extra storage once I start accumulating more junk- ANDDDD little coat rack thingies. MAJOR want, but I haven't told Santa or anyone I wish for this- so I'm on my own with this one.
4. Jessica Simpson Vernica boots-
Again something I haven't asked out loud for. I probably won't even buy them for myself later, because I recently had to buy three new pair of boots. I HAD to. Why? I don't know. ;-) I love the heels on this boot- The spike. Like if someone was trying to mug you, one hit of your sole to their chest and you'd be scot free. haha Oh my God.....How did this turn violent?? Merry Christmas. Think Christmas thoughts.......lights, tinsel shine happy...........
5. Tiffany & Co. Sterling Silver earrings
- I'm not a HUGE real jewelry person. My costume stuff works just fine for my outfits, but these earrings- so simple, yet so chic. They're like pearls, but not. I love pearls, but they get boring to me, and these would be perfect, no? I think they retail for about $80 depending on what size you get. I didn't ask for these either, but maybe one day I'll have some extra money to spend on these.
So this is my small wish list- tell me what's on yours!
It's currently 8:30 am on a rainy Sunday morning- weekend is already gone, and I just had a hankering for Mexican food. Yup. Just now. *sigh*. The gym I joined is closed on Sundays so most likely this day will be P90X's Stretch or Yoga dvd.
I haven't officially started back training or eating well- call me anal, but I just really do like to start things evenly. i.e. On a Monday. I read in my Oxygen magazine that you shouldn't start on a Monday- why wait until tomorrow what you can do today?? Uhm, because I'm SUPER organized and in my mind Monday sounds better. Ok, Oxygen? It's not that I put it off- I just really want to start where I want to start. Plus, I need tools. I need a planner where I can write down my workouts, and I'm buying the perfect one today. I find that the more
obsessed
organized and focused I am on what I eat and what I do for my workout, the more I tend to stick with it. My plan and what I'm eating next HAS to always be in the back of my mind, or else I'll fall off the wagon and eat something I really don't want. Does this make sense? In my mind it makes perfect sense, but to others it probably just sounds nuts.
Enough rambles. Everyone have a great Sunday, and if you're in my neck of the woods, STAY DRY!