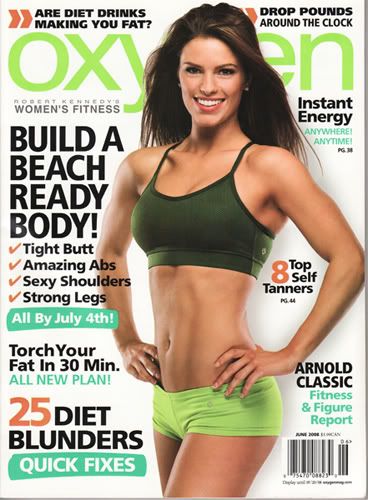 FIRST and foremost, I have to tell you all that my goal is to

NOT

be rail thin. I want muscles! I want abs you could wash laundry on! Biceps that could make a grown man bow to his knees! heehee. Don't fret--I know it says to the right over there ----->that I have about 43 pounds to lose, but if I ever see myself getting way too skinny--what I like to call "Skeletor Thin"--I'll STOP.

As promised, I'll share with y'all my current diet and fitness regime plus fun Before and Current pictures!
I can't even begin to tell you what I've tried over the years, to lose weight. Nothing too extreme—just not the healthiest per say.
As of now, I guess I would say I'm on a high protein/low carb diet. The trainer who works in the "Life Center" here at work (yeah…cute name….Life Center.) is a bodybuilder—she's done a few shows and isn't too big and meaty, but has great muscles! She basically put me on the diet she sticks to while training for shows. I first came to her last year with the goal of wanting to be in the Miss Alabama USA pageant. Long story, but I never went through with it. Just didn't have enough time between when I started the program and when the pageant was. I did lose about 12 pounds in two months doing things her way, and it wasn't too hard to do. I really stuck with it. I made it priority numero uno in my life—some people don't need to, or can't, but for me, being single and young I was able to do so.
I eat every 2-3 hours all day. Mostly fish, chicken and turkey meat dishes. Here's a typical day for me, meal wise:
Breakfast:
Strawberry Protein Shake by Parillo performance (VERY high in protein! I was drinking a different kind before Christy stepped in and told me the carbs were too high in it and not enough muscle building protein. Oops.)
Snack #1:
Chicken breast, ½ cup of broccoli and 1/3 cup brown rice.
Lunch:
Tilapia, ½ cup green beans and sweet potatoes.
Snack #2:
Chicken salad and whole wheat crackers.
Dinner:
Salmon and ½ cup of some vegetable.
Snack:
Sugar free pudding or Special K with skim milk
Lately I've been so horrible with my dinner. I do my workout after work from 4:30 until (some days) 6:00 and when I get home I just grab what I can. Not bad eating, but probably "not enough calories" eating and by the time bedtime comes, I'm starving. NOT GOOD. Something I need to work on.
This is my basic, run-of-the-mill menu. I stick to this most days, but for good measure, try new low carb recipes to keep things interesting! Cooking is my new love since I moved out into the big-girl world almost a year ago! I'll share some of my recipes with you all and PLEASE do the same (are you taking the hint? I've mentioned that a FEW times now!)
My Lightest - 160 lbs in 2004
My Heaviest - 200 lbs in 2007
My Happy Medium - 180 lbs in 2005 (HAPPY HALLOWEEN!)
Current - 198 lbs in 2009