Womanizer, womanizer, womanizer!!!
Britney, girl, your song dances through my head this morning like raindrops on a light, fluffy cloud. I've had Gaga's newest, "Telephone" stuck in my head like you wouldn't BELIEVE. During work, at home, during meetings.... Granted I have been listening to it about 15 times on the way to work and back home lately ;-) What can I say? I love The Ga.
Luckily Anthro's sale didn't contain much of anything I've been eyeballing except
The Fairy Cake Dress by Floreat
: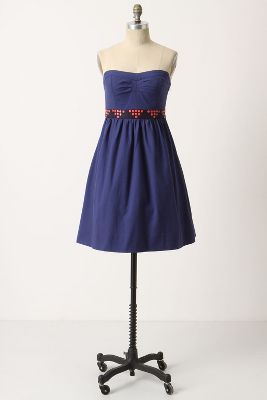 This dress isn't everyone's style, but I am a sucker for vintage girly dresses and sweetheart-ish necklines. It's half price, now down to
$80
. I pray that it's there in my size come Friday- which, by the way, is when IRS. gov predicts my tax refund will be in my account. Can I get an Amen??! :-)
Friends....The J. Crew Mow Monde Dress is now on SALE as well! I'm still torn between two colors...
HELP
- Thoughts? Suggestions? I know y'all have an opinion and I need help deciding you fashionistas, you! Is everyone still thinking the
Mint Green
? Or the beautiful
Tropical Blue
?
This J. Crew Lorelie Dress is on sale for
$78
. I think I'll be purchasing. I love grey- it's so chic.
Next up- Summer Sandals still on my wish-list:

Although you can't tell-
these have the cutest ruffle looking design on the heel.
$60 from Endless.com

LOVE these straps- which really spice up a typical, boring flat sandal.
$70 from endless.com
(Yes, aware this is not a sandal. hee hee) I love chunky, wedge-like heels. They have such character!
The price is the SALE price. Faryl Robin's shoes are always so damn expensive. Geez $126 from endless.com